Bio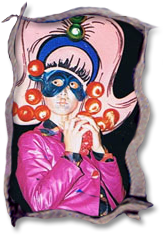 Mikiko is a costume designer. Mikiko has worked in the Commercial, Film, Television and Theater industry for the past 10 years. She has custom designed costumes for over 100 productions . Mikiko is highly skilled in her Art Form, and she has worked on a spectrum of designs from the most simple to the most outrageous. Some of Mikiko's designs include: Stilt Walker Clowns, Medieval Soldiers, Angelic Space Gods, Large Monsters, Victorian period pieces, and more. She is truly an innovator and creator in her field.
Mission
From conception, illustration, design to construction...
Creating the image you invision...
Skills and Service
MKO specializes in theatrical costume design and construction. MKO offers an array of services and skills. The team of MKO is accomplished in large scale productions, as well as, a one to one client bases. MKO is highly qualified and experienced in illustration, design, pattern making,draping, cutting and sewing, foam construction, latex, alterations, custom drapes, tailor works, beading, quilting, patchwork, sculpting, LED lights, custom hat design, custom mask design ,jewelry, wire work, leather construction, fabric dying.
Tour
Lollapalooza 2003 (35 cities in USA) with Dream Circus Theatre: Costume Wardrobe Department.
Training
Bantan Design Fashion Institute
Major: Fashion design and pattern making
- Tokyo, Japan 1986-1988
Fashion Institute of Design and Merchandising
Major: Creative Fashion Designs and pattern making
- San Fransisco, Los Angeles, CA 1991 to 1993